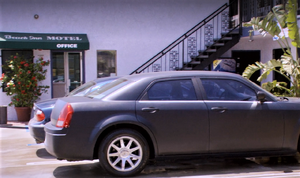 Beach Inn Motel is a location is Season Five of the Showtime series DEXTER.
Stan Liddy, a narcotics cop, is arrested in a sting operation in this motel.
Summary
Maria LaGuerta is frequently meeting with Jim McCourt, an internal Affairs Investigator to help him with a case. In return, McCourt has agreed to drop the department's assault charges against her husband, Angel Batista. However, she doesn't tell Angel what she's doing and he begins to suspect that she and McCourt are having an affair.
One night, Maria arrives home with a dubious explanation of why she's late. While Maria is showering, Angel checks her phone and learns that she and McCourt are meeting at the Beach Inn Motel the next day. Angel shows up at the motel, looks through a window, and confirms that Maria and McCourt are together inside. Enraged, he barges into the room while Maria is buttoning up her blouse. Raising his fist, he calls McCourt a "son of a bitch." Just as Angel is about to punch him, Maria intervenes, yelling that it's a sting to catch a corrupt cop named Stan Liddy (seen in an adjoining room). Her blouse is open because she's wearing a wire.
Angel calms down, but Maria is furious that he didn't trust her. He counters by asking why she didn't trust him enough to tell him about the sting. Still angry, Maria asks if he thought she was fucking McCourt. Angel explains his suspicions -- she barely talks to him, comes home late, and sneaks around. They are interrupted by a phone call about a double homicide. They head to the scene, but Maria refuses to ride with Angel.
Related Pages
Gallery