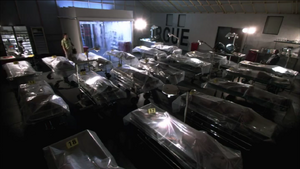 Bay Harbor Butcher 18
refers to a set of deceased characters in
Season Two
of the
Showtime
series
DEXTER
.
Description
It's the name given to the eighteen dismembered bodies that are recovered off the coast of Miami.
All had been killed by The Bay Harbor Butcher (Dexter Morgan). While Dexter had killed well over that amount, these are only the ones that were found by scuba divers..
DNA analysis identified all eighteen as murderers who had slipped through the law.
Bay Harbor Butcher 18
There are actually 20 named victims who have their body parts displayed or mentioned, instead of 18 victims.
Possible Continuity Error
While on suspension, James Doakes returns to Miami Metro Homicide to be interviewed by Frank Lundy. He is questioned about his past cases that involved victims of the Bay Harbor Butcher. First, Lundy mentions the Smith case, which was thrown out on inadmissible evidence. Second, Lundy brings up Orozco, who skipped bail, and was never seen again. When Lundy informs him that Anthony Rodrigo was not convicted due to sloppy blood work, Doakes becomes angry and walks out, refusing to talk further.
Blood Slides
Later in the investigation, Dexter's Blood Slide Box 1 containing forty-six blood slides was found in the trunk of James Doakes' car. All eighteen of the victims listed above were matched by DNA to eighteen of the blood slides. The other twenty-eight slides were matched to missing felons.
Identifying the Bodies
The following episodes contain scenes, either of the field morgue or in presentations, that identify the dismembered bodies.
Related Pages
Gallery
Community content is available under
CC-BY-SA
unless otherwise noted.