Bailiff Uslander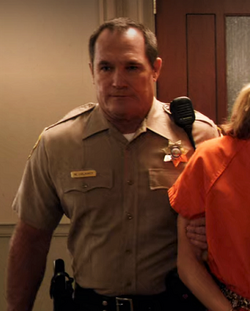 Bailiff Uslander is a character in Season Seven of the Showtime series DEXTER.
He escorts Hannah McKay to court for her arraignment where she charged for the first degree murder of Sal Price.
Summary
The bailiff, holding Hannah's arm, walks her into the courthouse where they encounter Debra Morgan.
Hannah: (to Debra) "Lieutenant. What brings you here?"
Debra: "I'm the arresting officer."
Hannah: "How's the wrist?"
Debra: "Stronger every day. How's facing life without the possibility of parole?"
Hannah: "Last time I checked it's innocent until proven guilty."
Debra: "Well, this is your last chance. You can save yourself a lot of time and trouble, and confess what you've done."
Hannah: "I will if you will."
Debra: (laughs) "My conscience is clear."
Hannah: (laughs) "All that Xanax. My, how you must have trouble sleeping at night."
Debra: "You don't know shit about me."
Debra: (to bailiff) "A minute?"
The bailiff steps away, letting Deb and Hannah talk privately.
Hannah: "Except you're lieutenant of Homicide and you wear a big shiny badge, and yet you know exactly what your brother is. Don't worry, I'm not gonna tell anyone. They wouldn't believe me even if I did. But knowing that you have to live with it is, um, punishment enough. Still, I'm curious. How do you justify arresting me and not him? Or is the law just something that you make up as you go along? Turning a blind eye whenever you feel like it, or whenever Dexter is involved?"
Debra: (glaring at Hannah) "Fuck...you. You are a liar and a killer."
Hannah: "But not a hypocrite."
Hannah's Attorney: (approaching Hannah) "Ms. McKay, come on. Let's go."
Related Pages
Gallery
Community content is available under
CC-BY-SA
unless otherwise noted.