Auri Batista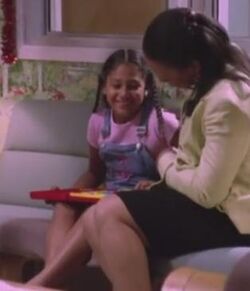 Auri Batista is a character in DEXTER. She is the daughter of Sergeant Angel Batista and his ex-wife Nina Batista. Her aunt also happens to be Jamie Batista, Angel's younger sister and Harrison Morgan's nanny. Of interest, her name is pronounced "Out-ee" rather than "Awl-ee", this could be a way Cubans pronounce it as Angel is typically referred to as "Ahn-Hel".
Appearance
Auri is a young, Latina girl with darker-toned skin than her father and long, black hair. Her clothes are that of a typical girl her age, usually varying between pink and cutesy.
Personality
Auri never has a speaking role in any of her appearances, so personality wise there's not much to say of her character. She likes to wear pink and has somewhat of a princess style bedroom, so it would be assumed she is like any typical adolescent girl. Her relationship with her father is strained, between fighting against her mother Nina and his other duties, Angel very rarely gets to see his little girl.
Plot
Auri's involvement in the story declines as the series goes on, with Angel Batista fighting to be around her throughout Season One. The following seasons see him develop towards other areas. It's unknown how much time they get to spend together in the long run, if at all, considering the separation of her parents.
Community content is available under
CC-BY-SA
unless otherwise noted.