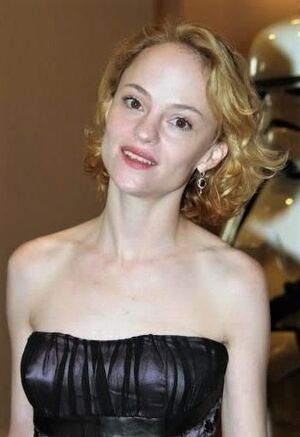 Angela Marie Bettis (born 9 January 1973) is an American film and stage actress, film producer, and director.
She played Emily Birch, the first victim of the Barrel Girl Gang, on Showtime's DEXTER.
Appearances
Career
Her debut role was a lead in the romantic tragedy, Sparrow at the age of eighteen. She went on to star in such films as The Last Best Sunday, Girl, Interrupted, Bless the Child, Carrie, Toolbox Murders, and Scar.
In 2002, she starred as Abigail Williams in a production of The Crucible on Broadway along side Jennifer Carpenter as Mary Warren. Bettis is most famous for her work in independent horror films, and especially her working relationship with writer/director Lucky McKee. Her title role in McKee's 2002 film May won her a cult following. Since then, she has appeared in McKee's Masters of Horror episode, "Sick Girl", and provided a voice-over for his film The Woods. In 2006, McKee acted for Bettis in her directorial debut, Roman, based on a McKee script. In 2011, she played a major role in McKee's adaptation of Jack Ketchum's The Woman.
Personal Life
She was born in Austin, Texas and graduated from Westlake High School. She then enrolled at the American Musical and Dramatic Academy.
Trivia
Gallery