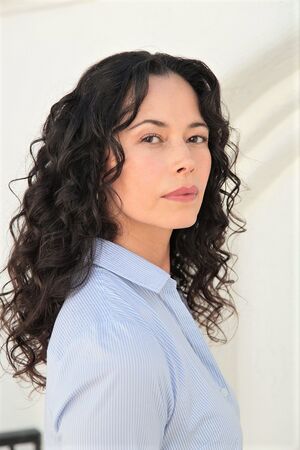 Angela Alvarez (born 1964) is an actress and director.
She played Nina Batista, the ex-wife of Angel Batista, on Showtime's series DEXTER.
Appearances
Career
Films
Her movie credits include roles in Heartbeat (1987); Salsa (1988); She's Having a Baby (1988); Real Men Don't Eat Gummi Bears (1987); Judgement Night (1993); I'll Do Anything (1994); Dead Badge (1995); Desert's Edge (1997 Short); Butter (1998); Boss of Bosses (2001); Showtime (2002); Eye See You (2002); Living the Life (2004); The Wendell Baker Story (2005); Freedom Writers (2007); and Magnum Opus (2017).
TV Movies
Her credits for TV movies include roles in Night Visions (1990); Daughters of Privilege (1991); Shadowhunter (1993); Jack Reed: Badge of Honor (1993); Hollywood Confidential (1997); Point of Origin (2002); Lone Rider (2008); and Run for Your Life (2018).
Television
Her TV credits include appearances on Kingpin; The Young and the Restless; The Mentalist; Rizzoli & Isles; Grimm; Bones; Without a Trace; The Agency (2001); Pacific Blue; Ghost Whisperer; Miami Vice; Who's the Boss?; Buddy Faro; Profiler; and Gun.
Personal Life
Her parents moved the family from Puerto Rico to the South Bronx, New York City. She has four brothers and three sisters. She attended Arts High School in Newark, NJ majoring in Visual Arts. She majored in Economics with a minor in Film at Hunter College. She began her career as a model in New York city. She then moved on to acting, and later directing. She has been married to singer Draco Rosa since 1990. They have two sons, and live in Los Angeles.
Trivia
Alvarado has directed critically acclaimed videos for stars in the music industry, including Litzy, Pee Wee, Vivanativa, and her husband, Draco Rosa.
She is an avid martial artist, and holds a second-degree black belt in Taekwondo and Hapkido.[1]
Angela appeared as the main character (dancer) in the Tears for Fears video: Woman In Chains ft. Oleta Adams.
Gallery
References