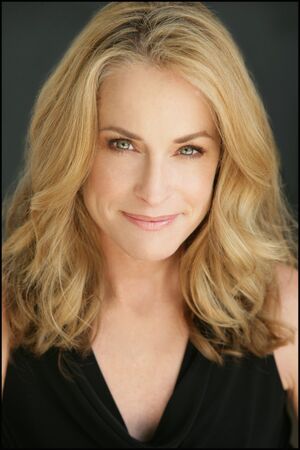 Amanda Wyss (born 24 November 1960) is an American actress.
In 2006, she played Rita's Social Worker on Showtime's series DEXTER.
Appearances
Career
Film
Her film credits include roles in Assassin's Fury (2019); Triggered (2019); Big Legend (2018); The Capture (2017); The Sandman (2017); The Hatred (2017); The Id (2015); Deadly Impact (2010); The Graves (2009); Fallacy (2004); Marry Me or Die (1998); Strategic Command (1997); Digital Man (1995, uncredited); Desert Steel (1994); Bloodfist IV: Die Trying (1992, Video); Checkered Flag (1991); Black Magic Woman (1991); Son of Darkness: To Die for II (1991); Shakma (1990); Deadly Innocents (1989); Powwow Highway (1989); To Die For (1988); Flag (1986); Better Off Dead... (1985); Silverado (1985); A Nightmare on Elm Street (1984); Fast Times at Ridgemont High (1982); and Force: Five (1981).
TV Movies
Her TV movies include Gunsmoke: To the Last Man (1992); The Final Days (1989); Independence (1987); Something in Common (1986); Firefighter (1986); No Earthly Reason (1984); My Mother's Secret Life (1984); Lone Star (1983); A Killer in the Family (1983); The Tom Swift and Linda Craig Mystery Hour (1983); Cass Malloy (1982); The Other Victim (1981); and This House Possessed (1981).
Shorts
Her shorts include Rest Stop (2019); There's One Inside the House (2018); It Happened Again Last Night (2017); The Watcher of Park Avenue (2017); Thing in the Dark (2016); 360 Degrees of Hell (2016); Oct 23rd (2016); Bella! Bella! Bella! (2002); and Tupperware Party (1997).
Television
Her TV credits include appearances on Murder in the First; Mac and Abby; Major Crimes; The Division; CSI: Crime Scene Investigation; Cold Case; The Division; JAG; The Drew Carey Show; Judging Amy; The Agency; Diagnosis Murder; Any Day Now; Profiler; Charmed (uncredited); ER; High Incident; NYPD Blue; The Marshal; Walker, Texas Ranger; Murder, She Wrote; University Hospital; Silk Stalkings; Highlander; Quantum Leap; Cagney & Lacey; My Two Dads; The New Adventures of Beans Baxter; Cheers; St. Elsewhere; Glitter; Otherworld; The Powers of Matthew Star; Star of the Family; Teachers Only; Jessica Novak; ABC Afterschool Specials; Buck Rogers in the 25th Century; The Righteous Apples; and When the Whistle Blows.
Personal Life
She was born and raised in Manhattan Beach, California.
Trivia
Freddy Krueger's very first murder victim in A Nightmare on Elm Street (1984), the first of the series.
She has occasionally been credited as Mandy Wyss.
Community content is available under
CC-BY-SA
unless otherwise noted.