Albert Chung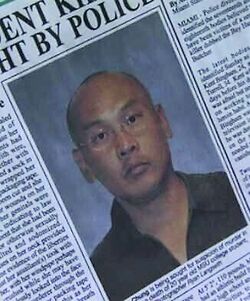 Character Profile
Portrayed By
N/A
Season(s)
Season Three
First Appearance
Easy as Pie
Last Appearance
Easy as Pie
Appears in
One Episode
Character
Full Name
Albert Chung
Nicknames
Scumbag (Miguel Prado)
Status
Incarcerated
Characteristics
Gender
Male
Eyes
Brown
Hair
Bald
Personal Status
Marital Status
Single
Professional Status
Profession
Robber
Spontaneous murderer
Killer Profile
"No Known Alias"
Inactive
Number of Victims
One
Modus Operandi
Tools/Weapons
Screwdriver
Killing Method
He broke into people's homes by jimmying the backdoor locks with a screwdriver. After that, he robbed them while wearing socks. If interrupted, he acted violently and killed, or tried to kill, his victims.
Method of Disposal
None
Cause
Unknown
Albert Chung is a character on Showtime's series DEXTER.
He was a petty burglar until he killed a woman, and then was represented by defense attorney, Ellen Wolf.
History
Season Three
Six months before his break-in at the Morton house, he broke into an old woman's house and when she interrupted, he pushed her down the stairs and escaped prosecution with the help of defense attorney Ellen Wolf when the victim couldn't ID him in a line-up. Afterwards, he broke into another house. When he was discovered by a young college student named Lisa Morton, Chung tackled her, killed her, and fled. He was wearing socks at both crime scenes, which led Masuka to believe that he was the one who had killed Lisa. Masuka showed hatred towards Chung, stating that "he gives Asians a bad name." Wolf tried to get Chung's charges lessened, as well as several other benefits, in exchange for his surrender. This ended in a serious argument about him with Miguel Prado at the police station. However, Wolf later helped LaGuerta turn him in to the police. Although he was never seen, Chung looked like Masuka, according to his picture.
Victims
Attempted Victims