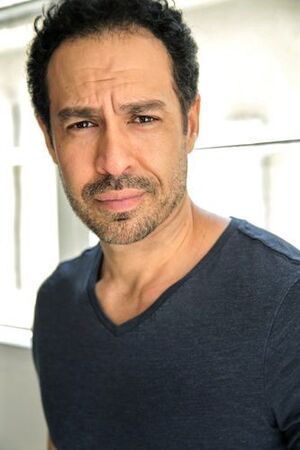 Al Vicente (born 8 March 1971) is an American actor and director.
He played Alberto, a migrant smuggler, on Showtime's DEXTER.
Appearances
Career
Film
His film credits include roles in The Domestics (2018); Godzilla: King of the Monsters (2019); The Maestro (2018); Blind Trust (2017); Aztec Warrior (2016); Allegiant (2016); Bad Ass 3: Bad Asses on the Bayou (2015); Taken 3 (2014); Kristy (2014); When the Game Stands Tall (2014); Dawn of the Planet of the Apes (2014); Someone Marry Barry (2014); Black Dynamite (2009); Merem melek (2008); Redrum (2007); Richard III (2007); American Zombie (2007); Next Exit (2005); White Boy (2002); Sacred Is the Flesh (2001); That Summer in LA (2000); Diamond Men (2000); Brother (2000); The Chaos Factor (2000); Gunshy (1998); Tangled (1997); My Brother Jack (1997); Fight and Revenge (1997); and Star Maps (1997).
TV Movies
His TV movie credit include roles in Identity (2014); Trooper (2013); Anna Nicole (2013); and The Dukes of Hazzard: Hazzard in Hollywood (2000).
Shorts
His shorts include The Poet (2018); The Dungeon Master (2011); Picnic in the Woods (2010); Matumbo Goldberg (2009); The Terrorist (2009 Video); Irish Twins (2008); and Dry Spell (1998).
Television
His TV credits include appearances on Swamp Thing (filming); Bosch; StartUp; 13 Reasons Why; Cloak & Dagger; # SOsingle; Empire; Queen Sugar; MacGyver; Game of Silence; Zoo; NCIS: New Orleans; American Horror Story; Nashville; Criminal Minds; Rizzoli & Isles; Devious Maids; Rectify; Treme; Drop Dead Diva; Under the Dome; The Walking Dead; Matumbo Goldberg; Sons of Anarchy; Law & Order: LA; Castle; Nip/Tuck; CSI: NY; Without a Trace; Prison Break; Jericho; The Unit; In Justice; CSI: Miami; Presidio Med; Nash Bridges; The District; The Huntress; Mike Hammer, Private Eye; ER; Pacific Blue; and The Untouchables.
Theatre
He began his acting career in Chicago, performing at theaters including LCTC and the Goodman Theater. He appeared on Broadway in The Night of the Iguana.
Personal Life
He was born in Chicago, Illinois. He is of Costa Rican and European descent.
Gallery