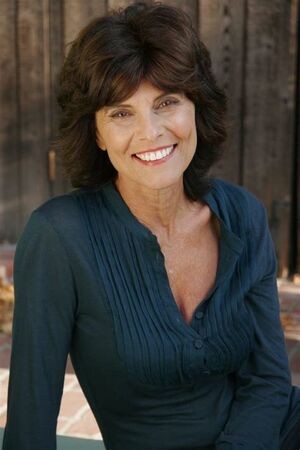 Adrienne Jo Barbeau (born 11 June 1945) is an American actress, singer, and author of four books.
In 2009, she played Suzanna Coffey, a former confidential informant (CI) for Detective Harry Morgan, in the Showtime series, DEXTER.
Appearances
Career
Films
Her movie credits include roles in The Fog (1980), Escape from New York (1981), The Cannonball Run (1982), Swamp Thing (1982), Creepshow (1982), The Next One (1984), Back to School (1986), Open House (1987), Cannibal Women in the Avocado Jungle of Death (1989), Two Evil Eyes (1990), Father Hood (1993), Silk Degrees (1994), A Wake in Providence (1999), Across the Line ((2000), The Convent (2000), No Place Like Home (2002), Ghost Rock (2003), Unholy (2007), Reach for Me (2008), Alice Jacobs Is Dead (2009 short), Complacent (2012), Argo (2012), Divine Access (2015), ISRA 88 (2016), Big Legend (2018), and For the Love of Jessee (2018). Furthermore, she has appeared in many TV films.
Television
Her extensive TV credits include appearances on Maude; Enough Is Enough; Quincy; M.E.; The Love Boat; Fantasy Island; Hotel; Murder, She Wrote; The Twilight Zone; Dream On; FBI: The Untold Stories; ABC Weekend Special; Daddy Dearest; One West Waikiki; The George Carlin Show; Babylon 5; Flipper; The Wayans Bros.; Weird Science; Diagnosis: Murder; The Angry Beavers; The Drew Carey Show; Love Boat: The Next Wave; Star Trek: Deep Space Nine; Gotham Girls; Nash Bridges; The Chronicle; Carnivàle; K-Ville; Cold Case; Grey's Anatomy; The New Adventures of Old Christine; General Hospital; CSI: NY; Revenge; Sons of Anarchy; and Criminal Minds.
Video Games
2006: Marvel: Ultimate Alliance
2010: God of War III
2012: Kingdoms of Amalur: Reckoning
2012: Halo 4
2013: God of War: Ascension
2015: Mad Max
Personal Life
Barbeau was born and raised in Sacramento, California. She attended Del Mar High School in San Jose, California. Her mother was of Armenian descent and her father's ancestry included French-Canadian, Irish, and German. She has a sister and a half brother. Barbeau was married to director John Carpenter from 1979, to 1984; they had a son. Barbeau married actor/playwright/producer Billy Van Zand (thirteen years her junior) in 1992; in 1997, she gave birth to twin boys at age 51.[1]
Trivia
She made her Broadway debut in the chorus of Fiddler on the Roof.
Captain Murphy, a character from the animated TV series Sealab 2021, has an obsession with Barbeau and mentions her in several episodes.[2]
In an episode of Sabrina, the Teenage Witch, Miles develops an obsession with Barbeau, and buys a cardboard cut-out of her.[3]
Gallery
References