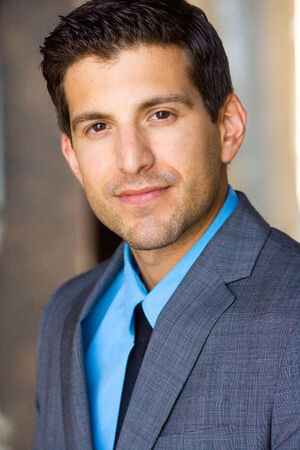 Adrian Bustamante aka Raul Bustamante (born 8 September 1981) is an American actor.
In 2010, he played Mario in Showtime's series DEXTER.
Appearances
Career
Film
His film credits include roles in The Message (2019); Apple at Work (2018 Video); Traffik (2018, uncredited); Something (2018, voice); The Bride from Vegas (2017); Behaving Badly (2014, uncredited); Dorner: Manifesto for Murder (2014); Jerked (2014); Helen Keller Had a Pitbull (2013); I'm in Love with a Church Girl (2013); Hansel & Gretel (2013 Video); JJ Star... How Embarrassing (2012); Left and Loose in THE LOT (2011); The Lot (2011); Anjaana Anjaani (2010); My Name Is Khan (2010, uncredited); and What Just Happened (2008, uncredited).
TV Movies
His TV movies include Forgotten Evil (2017); Social Nightmare (2013); Sharknado (2013); Dead End (2013); Yet 2 Be Named (2013); Alternate History: Nazi's Win WW2 (2011); True Blue (2010); and Witch Hunter's Bible (2010, documentary).
Shorts
His shorts include Conviction (2019); Alpine Restyle: The Getaway (2015); My Night with Andrew Cunanan (2013); Setup, Punch (2013); My Politics, My Country (2012); In Tune (2012); Only One Word (2011); Reflections (2011); merGER, Inc. (2010); and Wake (2010).
Television
His TV credits include appearances on Bosch; This Is Us; Angie Tribeca; Only Children; Ask Dr. Juli; Jimmy Kimmel Live!; My Crazy Sex; Evil Things (mini-series); Nobodies; Bones; Lethal Weapon; Castle; My Haunted House; Murder Book (series documentary); Unusual Suspects; Jane the Virgin; The Newsroom; Chasing Life; Sex Sent Me to the ER (series documentary); Long Distance; The Dispensable Bliss; The Bold and the Beautiful; Cost of Capital; 1000 Ways to Die (documentary, uncredited); I (Almost) Got Away with It (series documentary); I Didn't Know I Was Pregnant; Fairly Legal (uncredited); Gaikôkan Kuroda Kôsaku; The Mentalist (uncredited); The World's Astonishing News!; Trauma; The Young and the Restless; and 1 vs 100.
Personal Life
Adrian was born as Raul Bustamante in Fremont, California. He was the first of four children. The family later moved to Antioch, California.