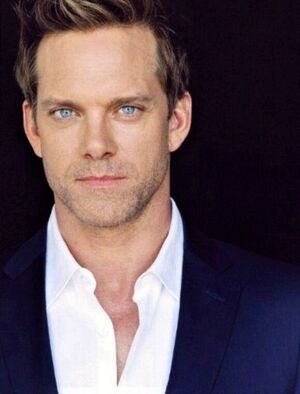 Adam John Harrington (born 26 November 1972) is a Canadian-American actor and producer.
In 2010, He played FBI Agent Ray Walker on Showtime's series, DEXTER.
Appearances
Career
Films
His movie credits include roles in Sanctimony (2000), Valentine (2001), Till Dad Do Us Part (2001 TV film), Out Cold (2001), Dead in a Heartbeat (2002 TV film), House of the Dead (2003), Connie and Carla (2004), Deep Evil (2004 TV film), Bratty Babies (2005 TV film), Flight 93 (2006 TV film), The Secret of Hidden Lake (2006 TV film), Surviving My Mother (2007), Passchendaele (2008), The Ugly Truth (2009), Life of Lemon (2011), Lucky (2011), Faces in the Crowd (2011), and The Heyday of the Insensitive Bastards (2015).
Television
His TV credits include appearances on The Outer Limits; Millennium, Stargate SG-1; Breaker High; Welcome to Parado; Viper; Mentor, The Crow: Stairway to Heaven, Da Vinci's Inquest, Secret Agent Man; First Wave, Freedom, Seven Days, The Chris Isaak Show, Andromeda; Just Cause; The Dead Zone; Out of Order; Jeremiah; Queer as Folk; Show Me Yours; Smallville, Whistler, CSI: NY, Outlaw, CSI: Miami, The Secret Circle; Castle; Parks and Recreation; The Mob Doctor; CSI: Crime Scene Investigation; Drop Dead Diva; Criminal Minds; Supernatural; Baby Daddy; NCIS: New Orleans; Major Crimes; Turn: Washington's Spies; Shadowhunters; Notorious; Training Day; NCIS: Los Angeles; and Wisdom of the Crowd.
Video Games
2011: L.A. Noire
2015: Battlefield Hardline
2018: God of War
Personal Life
He was born in Hamilton, Ontario, Canada and grew up in the nearby towns of Dundas and Burlington, where he attended Burlington High School. He earned a Masters of Science degree in Marine Biology before becoming an actor. He currently resides in Los Angeles.
Trivia
He has worked at Sealand Oceanariums in Nanaimo, British Columbia.[1]
Gallery
References